Details

Category: Industry News
The February jobs report hit last week, and the early reports from the Department of Labor show that the Leisure & Hospitality sector added 355,000 jobs during the month, which dropped the segment's unemployment rate from 15.9 percent to 13.5 percent. The national unemployment rate across the U.S. economy fell slightly from 6.3 percent to 6.2 percent.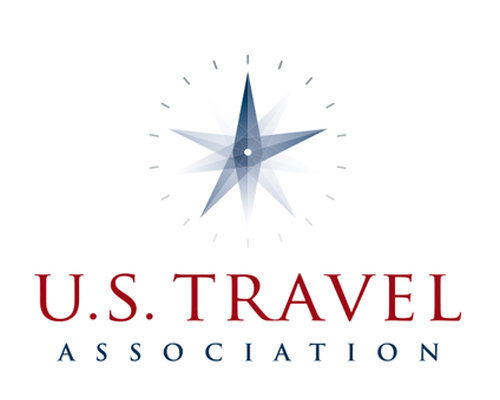 You don't need us to tell you that the Leisure & Hospitality sector was the hardest hit during the pandemic, accounting for nearly 40 percent of all jobs lost. While these numbers are trending positively for those who rely on a healthy travel market, especially as vaccinations begin to increase consumer confidence, there is work to do. At its highest, unemployment in this sector was at a whopping 39.3 percent (April 2020) and didn't fall below 20 percent until September 2020.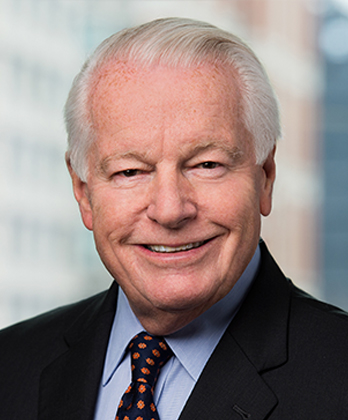 U.S. Travel Association President & CEO Roger Dow
U.S. Travel Association President & CEO Roger Dow was cautiously optimistic about the report. "While today's report shows travel industry jobs heading in the right direction, the fact remains that the Leisure & Hospitality sector's total jobs are still at just 80 percent of the levels we saw last February—a staggering figure. The travel industry lost millions of jobs," he said. "Even with the progress made with vaccinations, it is far from clear when travel demand will be able to rebound on its own. The outlook will remain dire for travel businesses and workers without substantial policy assistance from Washington to shorten the recovery period and bring back jobs as quickly as possible."
The American Rescue Plan Act of 2021, better known as the latest $1.9 trillion stimulus plan signed into law by President Joe Biden, does provide assistance to our industry, albeit mostly indirectly. Besides the additional money for the Paycheck Protection Program (PPP) and Economic Injury Disaster Loans (EIDL) through the Small Business Administration, the expanded Employee Retention Credit (ERC) provisions that were set to expire on July 1 will be made available through Dec. 31, 2021, for eligible employers. For the large hospitality industry, the plan includes $14 billion in aid to the airline industry (which was effected to help stave off mass layoffs again) as well as direct funds to ramp up vaccinations for all American adults by the summer. Additionally, restaurants receive some much-needed aid with the Restaurant Revitalization Fund ($29 billion) with the Shuttered Venue Operators Grant finally open for live venues to fight on another day. Biden says that he hopes to relax all regulations by the Fourth of July holiday.
The March jobs report is expected to be released on April 2.
[03.16.21]
Details

Category: Industry News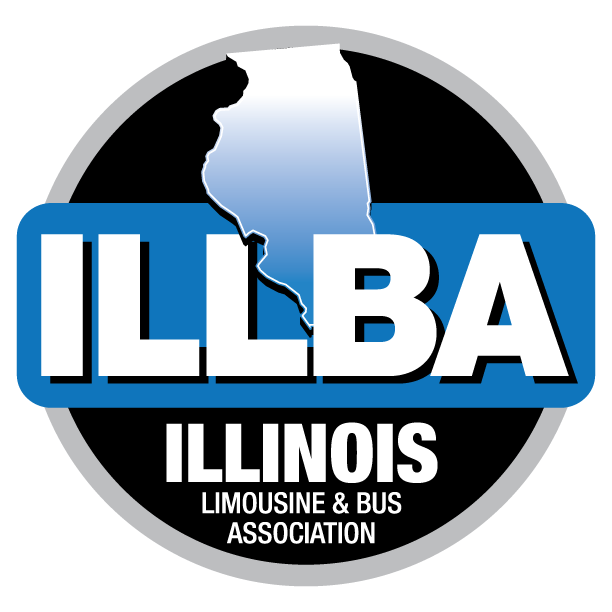 For business owners, accepting credit cards is a necessity, but so too is ensuring that those numbers are protected. Case in point: Payment Card Industries (better known as PCI compliance) industry research indicates that the vast majority of businesses that accept credit cards are storing unencrypted card numbers on their network. This opens up security risks to your clients, as well as your business.
On March 16, the Illinois Limousine and Bus Association held its latest Coffee With ILLBA educational meeting, which addressed the important topic of payment security. More than two dozen operators from across the country (and some as far as Europe) took part in a session given by Steve Wolfson of Century Business Solutions entitled Payment Security: 2021 Trends to Securely Accept Payment.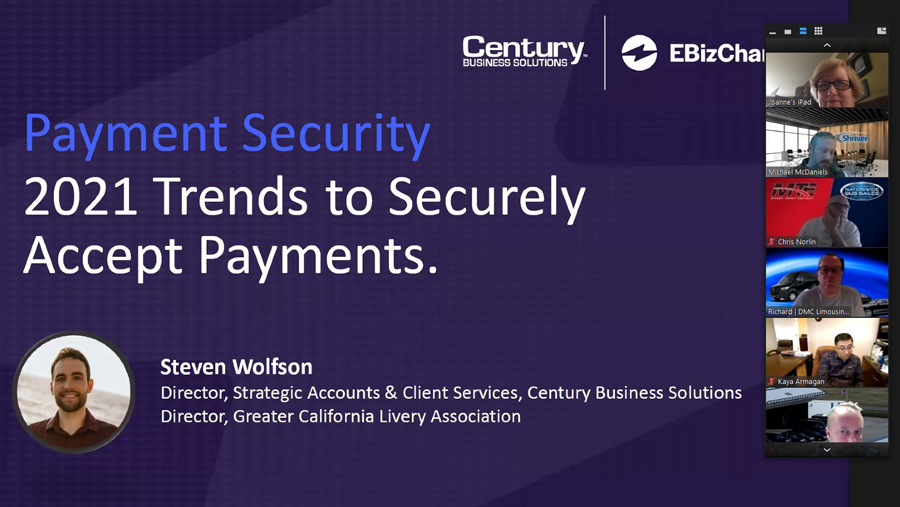 Steve Wolfson of Century Business Solutions discussed payment security
According to Wolfson, with more people working from home (or out of work) thanks to the pandemic, there has been an upswing of credit card fraud. This is largely due to the simple fact that people now have more time on their hands to devote to hacking accounts. As a result, operators should be taking care to make their payment processes compliant with the standards set out by PCI. Wolfson provided attendees with a brief overview of the do's and don'ts of storing card information, and gave tips on how to set your business up to be PCI compliant. The chief tip is finding a credit card processing company that not only maintains PCI standards, but will also advocate for you in instances where clients request a chargeback (particularly in cases of fraud).
Wolfson also advocated for operators to have fraud prevention modules installed on websites that accept payment. These software components will allow owners (or their IT team) to personalize levels of security, including, for instance, blocking IP addresses or countries where you don't provide service.
Following the presentation, Wolfson fielded questions from members on topics ranging from accepting Bitcoin to setting up charge alerts.
Following the lively Q&A, ILLBA Executive Director Paula DiBiasi concluded the meeting, promising more relevant education on topics suggested by members. A recording of the meeting is posted on ILLBA's YouTube page.
Visit illinoislimousineassociation.com for more information.
[03.16.21]
Details

Category: Industry News
New Flyer of America, one of the world's leading independent global bus manufacturers, recently unveiled its next generation battery-electric Xcelsior CHARGE NG heavy-duty transit bus, built on the proven Xcelsior platform. This comes after February's debut of its Xcelsior AV, an electric and autonomous model bus that is being marked toward transit systems.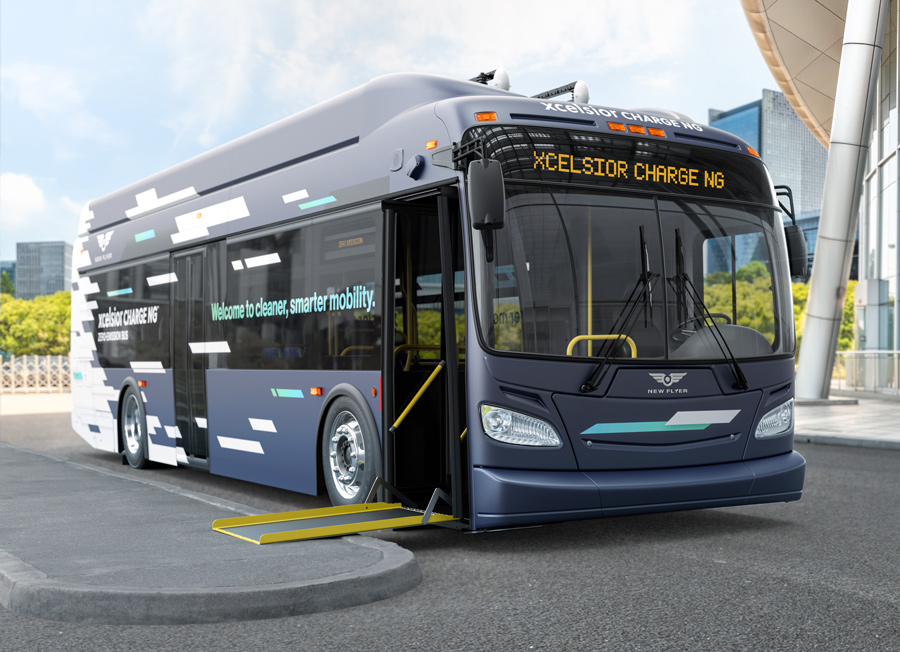 New Flyer unveils Xcelsior CHARGE NG
Based on New Flyer's low-floor transit bus that the company introduced in 1991, the Xcelsior was launched in 2009, with more than 16,000 delivered to date. Having surpassed 4.5 million service miles with its battery-electric Xcelsior CHARGE and fuel cell-electric Xcelsior CHARGE H2 buses, New Flyer applied that research to develop its newest electric bus.
Xcelsior CHARGE NG incorporates three distinct technology advancements to deliver a high-performance bus, including next generation, high-energy batteries that extend range up to 13 percent, advanced protective battery packaging designed for easy install and simpler serviceability, and a new lightweight electric traction drive system with up to 90 percent energy recovery, according to a press release from New Flyer.
"The Xcelsior CHARGE NG harnesses the best technology on the market. It includes a streamlined design that reduces maintenance, increases energy density, and improves energy recovery while significantly reducing weight—offering a lighter, more energy efficient, and longer range electric bus," said New Flyer and MCI President Chris Stoddart. "As EV demand continues to build, so too has our innovation. With better manufacturability, higher energy recovery, fewer parts, and improved system durability, our Xcelsior CHARGE NG is a high-performance bus that is more sustainable and easier to maintain."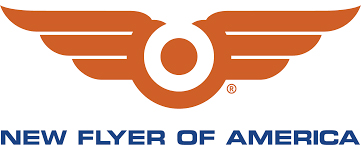 New Flyer says that it manufactures its own batteries in its bus production facilities, and that the internally developed battery packaging utilizes single waterproof enclosure design and offers weight reduction and simpler maintenance, decreasing the number of parts by 90 percent. This design also allows technicians to simply "plug in" or "unplug" individual battery packs, significantly reducing bus downtime and allowing easy replacement as needed in future, according to the company.
High-energy, long-range batteries utilize an active liquid cooling system to maintain temperature and respond quickly to increases in power demand and environmental loads. The batteries are also better insulated, lending optimal temperature maintenance, prolonged battery life, and greater power efficiency, according to New Flyer.
"Millions of people count on us every day, whether for reaching their destinations or expecting the highest quality from our technology," said New Flyer Vice President of Public Sector Sales and Marketing Jennifer McNeill. "This is why, alongside vehicle technology advancements, we have evolved our manufacturing and field services processes to ensure a safe, reliable, scalable approach to be ready for tomorrow's growing electric bus demand today. In turn, we also enhanced training for our teams and those of transit agencies across North America; enabling EV adoption while supporting continuous workforce development to drive the new mobility era."
To provide workforce development on Xcelsior CHARGE NG technologies, New Flyer will host a no-cost virtual training session on May 26 through the company's Vehicle Innovation Center (VIC). To register for the VIC session, or to learn more about the Xcelsior CHARGE NG battery-electric bus, visit newflyer.com/NG.
[03.16.21]