Details

Category: Industry News
Three days infused with knowledge and positivity! With many motorcoach companies still in a holding pattern due to the pandemic, the United Motorcoach Association (UMA) shifted into overdrive to help arm members with all the information needed to jump right back into business safely when travel resumes. Over three days between June 17 and 19, UMA hosted its Bus & Motorcoach Industry Virtual Summit: Ready. Aim. RESTART with daily sessions taught by dynamic speakers who focused on HR/employee best practices, sales, marketing, and financial issues. Participants were also offered a daily "tool kit" of resources that reinforced the sessions' takeaways and created additional learning opportunities. As a bonus, registration included a complementary pass to LinkedIn Learning, which features thousands of online classes on everything from body language to social media. 
The program, hosted by UMA President & CEO Larry Killingsworth and VP & COO Ken Presley, was designed to provide a combination of expert presentations, panel discussions, and breakout sessions. To ensure that operators are staying motivated and on the right track through the phases of recovery, there will be follow-up meetings held four, eight, and 12 weeks after the Summit.
The Summit was sponsored by Lancer Insurance, Spader Business Management, PAX Training, and Rellevate. Killingsworth also thanked ABC Companies, MCI, Prevost, and TEMSA for their support.
June 17
After a welcome message from Killingsworth and Presley, day one kicked off with a rousing keynote—Building a RESTART Mindset—from entrepreneur and motivational speaker Joe Calhoon, who challenged participants to consider their ideal future by "deciding to climb, camp, or quit—all acceptable options" depending on their circumstances. For those soldering on, he helped them explore the four dimensions of the adversity quotient. In the second hour, frequent UMA guest speaker Jim McCann of Spader Business Management focused on how companies can pivot in these changing times with his session Building Your Plan, Part I: We Were Doing Great … Until We Weren't. Moving beyond the record year that many companies had in 2019, he offered his advice for "right-sizing" business and emerging in a strong position once travel moves again.
June 18
The second day began with another session from McCann, Building Your Plan, Part II: Creating Your Roadmap to Return to Profitability, which built on his seminar from Wednesday. McCann explored all aspects of operation with the 4 Quadrants of Total Success, including staff, company culture, customer loyalty, and management.
Next, sales training veteran Jim Pancero motivated participants to think differently about securing customers in How to Increase Your Sales (and Competitive Advantage) in Today's Virus-Impacted World. He noted that the pandemic has hastened one of the largest cultural shifts in the past 50 years, and that all industries have been affected. He offered his ideas on improving messaging, marketing, and attitude.
In the final hour of the day, James Blain and Bruce Heinrich of PAX Training shifted the conversation to employees with their session Building the Right Team to Deliver an Experience, Not Just Passengers. With so many valuable employees on furlough, the PAX duo offered ways to keep staff engaged, set new expectations to meet novel challenges, and how to train for success as they return to work. Heinrich and Blain also spoke at the 2020 CD/NLA Show in Las Vegas this past February.
June 19
The last day launched with a panel discussion that included Alan Robinson of R&W Motorcoach, Ginny Orr of Golden West Travel, and Elizabeth Kamalakis of Coachlight Tours. In this session, Pulling It All Together: Finalizing Your RESTART Roadmap, the panelists offered an honest and often emotional take on what they are doing to prepare to relaunch their business as well as their very real frustrations and trepidations about the impact of the pandemic. Despite the frank conversation, the panel offered their optimism and renewed hope.
UMA didn't let the virtual nature of the Summit get in the way of networking as breakout sessions and a final networking session between participants promoted dialogue about what they had learned and what their strongest takeaways were from the numerous sessions.
To wrap things up, Calhoon (who opened the Summit) joined Killingsworth and Presley to give their final thoughts and motivated operators with some much-need optimism as we all embrace the uncertainty and use this time to emerge stronger as an industry.
Visit uma.org/summit for more information. Follow-up sessions will be held on July 15, August 12, and September 9, and is included in the initial registration cost.
[06.23.20]
Details

Category: Industry News
Higher levels of optimism in the business travel sector have started to appear according to new research issued by the Global Business Travel Association (GBTA). Domestic and essential business travel will likely resume first, especially with industry standardized health and safety standards.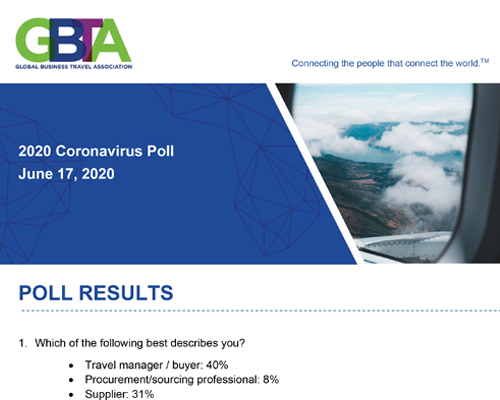 To continue to understand the effects of COVID-19 on business travel, GBTA conducted its eighth poll among membership from June 9-14, 2020. GBTA received responses from 1,708 member companies throughout the world. View the entire poll results here.
While business travel continues to stall, there are some signs companies are slowly beginning to reconsider. The poll reveals half (49 percent) of companies plan to resume domestic travel in the near future (1-3 months) and one in five (22 percent) plan to resume all travel in the next 1-3 months as well. The poll also reveals a small uptick in the number of companies allowing some essential travel (44 percent compared to 37 percent in the previous GBTA poll released on May 20, 2020).
Small indications of recovery are also evident among suppliers, with more travel suppliers and travel management companies (TMCs) reporting an increase in bookings. In fact, almost half (46 percent) of travel suppliers and TMCs report seeing an increase in their bookings in the past week, while one in four (40 percent) say their bookings have remained the same.
Supplier optimism regarding the industry's path to recovery is also showing positive signs. Four in ten (40 percent) say they feel more optimistic than they were last week (compared to 28 percent who felt the same in the previous GBTA coronavirus poll). Half (50 percent) feel the same as they did last week, and only one in ten (10 percent) feel more pessimistic about the industry's path to recovery than they felt a week ago.
Guidelines and standards are critically important across all verticals pertaining to the business travel industry. GBTA member companies overwhelmingly feel industrywide COVID-19 guidelines/standards are very important or important. Almost all companies feel COVID-19 guidelines/standards are important for the airline (96 percent), hotel (96 percent), rental car (93 percent), ride sharing (93 percent), taxi (92 percent), chauffeured car (91 percent), and meeting and event (91 percent) industries.
When asked about the impact of pandemic on the industry, most companies feel the business travel industry has experienced the worst in terms of canceled flights (86 percent), hotel operations suspension (78 percent), layoffs/furloughs (52 percent), and revenue impact (47 percent). However, one in three believe the worst is yet to come in terms of layoffs/furloughs (31 percent) and revenue loss (34 percent).
Plans to Resume Business Travel
| | | | | |
| --- | --- | --- | --- | --- |
| Region/Country | Plan to Resume Travel in Near Future (1-3 months) | Considering Resuming Travel in Near future, but No Definite Plans | Do Not Plan to Resume Travel in Near Future | Not Sure |
| China | 12% | 36% | 34% | 18% |
| Hong Kong | 11% | 36% | 34% | 19% |
| Taiwan | 13% | 35% | 33% | 20% |
| Asia Pacific (minus China, Hong Kong and Taiwan) | 12% | 39% | 32% | 18% |
| Europe | 25% | 41% | 20% | 14% |
| Latin America | 13% | 40%< | 29% | 18% |
| United States | 38% | 38% | 13% | 11% |
| Canada | 33% | 38% | 15% | 14% |
| Middle East/Africa | 13% | 37% | 32% | 17% |
| All International Travel | 12% | 44% | 28% | 16% |
| All Domestic Travel | 49% | 34% | 8% | 9% |
| All Travel | 22% | 50% | 12% | 16% |
Methodology
GBTA conducted a poll of its members across the globe from June 9-14, 2020. A total of 1,708 responses were received.
Previous GBTA poll results can be viewed here and here.
Visit gbta.org for more information.
[06.23.20]
Details

Category: Industry News
On July 9, Forest River Bus will deliver a free vehicle to the winner of their 100,000th Celebratory Bus Giveaway. Harmony Day Support, a nonprofit organization based in Forest, Va., was selected as the recipient of the bus this past September. Harmony Day Support services 80 adolescents and adults with intellectual and developmental disabilities.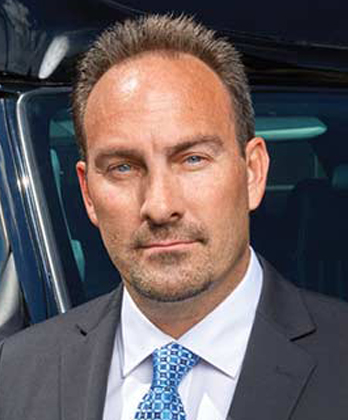 President of Forest River Bus Division David Wright
The Lynchburg News & Advance and several local news channels will be in attendance to report on the delivery, along with a ribbon cutting and celebration luncheon.
Forest River recognized that the building of their 100,000th vehicle was a momentous occasion, and the company chose to celebrate the event with a giveaway. Harmony Day was among more than 200 submissions reviewed by a committee of four individuals—two individuals from the local community and two from within the industry not associated with Forest River Bus.
In September, Forest River Bus President David Wright said, "We are excited and proud to announce Harmony Day Support, from Forest, Va., as our Forest River Bus recipient. We look forward to working with their team to produce a vehicle that will perfectly fit the needs of their staff and residents."
"At Harmony, we place a strong value on creating a culture of safety, independence, personal growth, and community service through whole-person development," said Harmony Day Support Executive Director Andy Coleman. "It is our goal to provide caring, personalized attention, and learning opportunities with a focus on social, academic, independent living, spiritual support, and employment preparation training."
Forest River Bus, owned by Berkshire Hathaway, designs and builds its buses in Goshen and Elkhart, Ind. Forest River Bus has a rich history of manufacturing expertise and dedication to customer satisfaction, building small to midsize shuttle buses for both the public and private transportation markets.
Visit forestriverinc.com or harmonydaysupport.org for more information. 
[06.22.20]