Details

Category: Industry News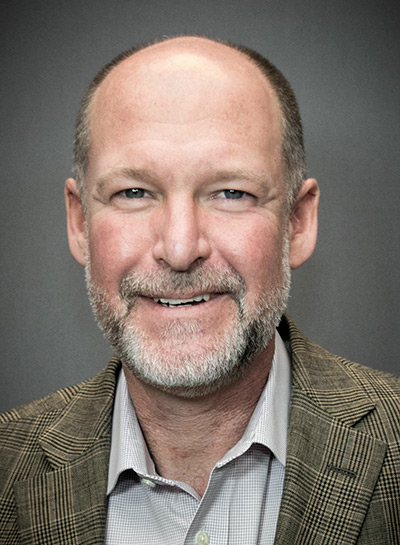 Newly appointed TLPA Executive Vice President John Boit Rockville, Md. — The Taxicab, Limousine & Paratransit Association (TLPA) is pleased to announce it has named John Boit, a communications expert with a decade of experience working with the trade association and the for-hire fleet industry, as its new Executive Vice President.

Boit, who is a senior founding partner of the strategic communications firm Melwood Global, will be heavily involved in implementing the global trade group's new strategic plan in 2019. He assumed the new role January 2, and will remain a senior partner at Melwood Global as part of the arrangement.

"John has earned the trust and respect of members from around the world in the many years he's worked with TLPA's executive team and our members," said TLPA President Terry O'Toole. "In a way, he's been preparing for this job for 10 years, and his long history with the organization creates the path for an almost immediate and seamless integration into the busy years ahead."

Boit will work directly with Alfred LaGasse, the CEO of TLPA. LaGasse has been with the organization for 41 years, serving as its chief executive for the past 40 years.

"I'm looking forward to expanding my work with John, with whom I've developed a very strong working relationship during some of the most challenging times our industry has faced," said LaGasse. "He is a strong addition to our staff, and truly adds to our ability to serve our members as we move into our second century of industry leadership."

A 101-year-old organization with a membership spanning four continents, TLPA is embarking on a rebranding effort in 2019 to mirror its four major areas of focus, including expanding membership, leading the industry with best safety and environmental practices, identifying innovations that increase members' profitability, and enhancing drivers' image and performance.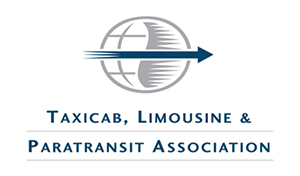 "This industry is changing rapidly, and it's an honor to be a part of that evolution," Boit said. "What's very exciting is that transportation companies are diversifying and changing shape as passengers seek new mobility options. And TLPA is focusing intensely on ways to serve, educate and convene the myriad providers and stakeholders in this space. At the same time, the important mission of TLPA as a unified voice of safe, professional transportation will remain the same as it has for more than a century."

Boit brings significant experience to the job, which was previously held by Harold E. Morgan, a well-known industry leader whose service to the association spanned 25 years until his retirement in 2018.

Boit started with TLPA in 2008, when the industry was relatively calm, focused primarily on driver recruitment and retention, public safety, and operational efficiency. When TNCs like Uber and Lyft began appearing, he became more deeply involved in association strategy. One of his highest profile contributions was the creation of the TLPA's "Who's Driving You?" campaign that called attention to the safety flaws of TNCs without proper oversight and regulation.

With his team at Melwood, Boit also launched the successful "Pink Ride" program that raised $250,000 for the American Cancer Society by encouraging fleet owners across the country and around the world to paint vehicles pink to draw attention to breast cancer awareness.

He also launched TLPA's first webinar series, its first podcast program, "TLPA Fleet Forward," spurred the use of social media platforms to engage members and the public, and revamped the design and content of the association's flagship magazine Transportation Leader.

Communications products, social media and media outreach for TLPA will continue to be handled by a Melwood team as Boit transitions into the management responsibilities of his new role.

A New England native who was raised on a farm in Maine, Boit graduated from Harvard College with a concentration in English and American literature. After working as a journalist both in the US and abroad, he spent significant time in the developing world as a media and communications expert. He has lived and worked extensively overseas, including in the former Soviet Union where he led US government-funded international development projects for an international nonprofit. He also served as a defense contractor in Afghanistan and Iraq, where he led strategic communications teams. Boit started Melwood Global with fellow former journalist, Jon Tapper, and later added a third partner, David Guarino.

Boit currently lives in Boston. As he has in the past for various Melwood client work, Boit will continue to travel regularly to Washington, D.C., in his new role at the TLPA.

Visti tlpa.org for more information.

[CD0119]
Details

Category: Industry News
Chauffeur Driven Director of Events Jess Pavlow (left) and Senior Business Development Manager Diane Druss with TEMSA CEO Hasan Yildirim Fort Lauderdale, Fla. — Nearly 2,000 members of the chauffeured ground transportation industry came together at this 2019 United Motorcoach Association (UMA) Motorcoach EXPO, including Chauffeur Driven Publish Chris Weiss, Director of Events Jess Pavlow, and Senior Business Development Manager Diane Druss. The event ran from January 6-10, and brought together the industry's many operators, vendors, supporters, and associations so they could innovate, educate, and celebrate.

Meetings brought together like-minded individuals, education was found in a variety of seminars and sessions, awards and the driver and mechanics competitions honored an array of industry members' dedication and skills, while the expo floor hosted education of its own among the sprawling showcase of the latest and greatest services, products, and vehicles available to attendees.

The luxury ground transportation scene was well-represented, with 30 representatives of our industry segment coming together for a photo op organized by Chauffeur Driven outside the expo hall.

No industry event would be complete without some great nightlife, and UMA attendees took full advantage of the Floridian warmth during the beach party following a sneak-peek preview of the show floor.

Check out the February issue of Chauffeur Driven for in-depth coverage of the event and pages of photos.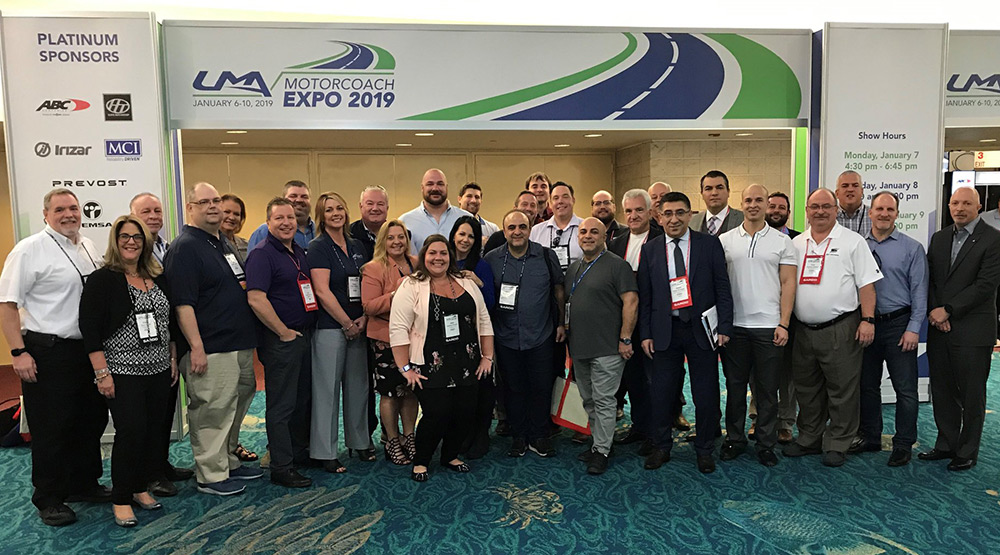 Thirty members of the luxury chauffeured transportation industry met up for a group photo during the 2019 UMA EXPO Next up for UMA is its annual legislative fly-in, scheduled for April 2 and 3 in Washington, D.C. A record attendance is expected for the event, which unites hundreds of individual representatives from a variety of bus and motorcoach industry groups with the common goal of speaking to members of Congress about how critical it is to protect the industry. UMA's goal is to have educated these legislators about the value of the bus and motorcoach industry, its concerns and envisioned solutions.

"I am pleased with the growing energy and collaboration transpiring between a wide variety of industry leaders who will be coming together with a single agenda for this important event. We are excited to expand the invitation list this year to include all industry leaders, both regional and national to unite and provide input for this year's legislative agenda," said UMA President and CEO Stacy Tetschner.

Attendees will have the opportunity to network with fellow industry members from major associations and organizations from around the country in order to create a unified vision that will be communicated with their elected leaders. Expected participants in this year's legislative fly in are active leaders, owners, operators from within the bus and motorcoach industry and the many organizations that make it up.

Visit uma.org for more information.

[CD0119]
Details

Category: Industry News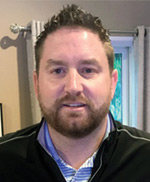 President Johnny Donohoe of Sterling Limousine Philadelphia — The Philadelphia Regional Limousine Association (PRLA) recently saw the biggest change in its board in years, as Outgoing President Steve Rhoads of Rhodes Limousine said "it's time to make room for new blood."

PRLA's 2019 board is:

President: Johnny Donohoe of Sterling Limousine
Vice President: Tony Viscusi of Global Limousine
Treasurer: Bob Euler Jr of Kings Limousine
Secretary: Tracy Salinger of Unique Limousine
Directors: Michael Barreto of Eagle Chauffeured Services and Jordan Sanders of Hollowsands Luxury Limousine
Vendor Director: John Arone of HUB International

Donohoe said that he is committed to infusing more education, more unity, and more forward-thinking into an association that he feels could use a little optimism after 2018 saw a number of near-wins at the legislative level unravel at the 11th hour. He believes that taking some inspiration from the TNC playbook is just the way to stage a comeback.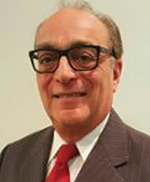 Vice President Tony Viscusi of Global Limousine "Every good operator has embraced the technology that TNCs forced us to utilize per our customers' demands—and, for as much as we all complain about Uber and Lyft, they have increased our chauffeur pools," he said. "Maybe one out of 20 applicants that comes to us from driving for a TNC is qualified to become a chauffeur, but the interest in there for those who want to make this a career."

The PRLA already secured an augmented educational component for its first meeting of 2019, as Katharine Batista from the law firm Offit Kurman spoke about the timely topic of labor-law with her presentation Payday: Hot Wage Payment Issues in the Chauffeurs For-Hire Industry during the association's January 9 meeting at the Philadelphia Airport's Holiday Inn Express.

The next PRLA meeting will be March 13.

Visit prlainc.com for more information.

[CD0119]