Details

Category: Industry News
The United Motorcoach Association (UMA) is celebrating 50 years representing the motorcoach industry, comprising mostly family-owned, multi-generational companies that have been a part of some of their passengers' best days and most cherished events. But the challenges this past year have made it even more important to come together as an industry, and UMA is hoping to do just that as it heads to the Orlando convention Center this April 21-25 for its 2021 Motorcoach Expo. Registration is still open, so you can still take advantage of this special opportunity to celebrate the golden anniversary of the association.
UMA is among the first conferences to return in person, with plenty of education to help operators through the next year and the recovery. Among the featured speakers are sales training coach (and frequent UMA speaker) Jim Pancero and hotelier and entrepreneur Harris Rosen who will offer their perspectives on how to navigate the new economy, capture sales, and find those opportunities. Keynote speaker Stephen Shapiro, the author of several books including Invisible Solutions and Best Practices Are Stupid, will explore how to solve difficult problems during difficult times, while Wayne Smith—who is the former executive director and founder of the UMA and whose company once managed numerous associations including the National Limousine Association—will reminisce about the association's storied 50-year history. The full schedule is available at motorcoachexpo.com.
Additional virtual sessions during the Expo include Mechanic Training, which will be held on April 23 at 10 a.m. at Prevost's Orlando facility and hosted by Prevost's Director Aftermarket Training, North America Robert Hitt. The session is free to UMA member mechanics; for non-members, the rate is $49 per person or $249 for unlimited participants from one company. You can register here.
A virtual driver training session will also be held by Bob Crescenzo of Lancer Insurance on April 23 at 9 a.m. New and experienced drivers are invited to attend. More information is available here.
In addition to an expansive schedule of educational sessions and events, the UMA is hosting a series of evening networking events designed to offer a blend of familiar faces and opportunities to learn and share in beautiful spaces with a friendly atmosphere. On Wednesday, attendees can look forward to a Welcome Reception at the Rosen Plaza Pool Deck, while Thursday night will offer a Sneak Preview After Party at the Hyatt Terrace. And, on Friday, make sure you bring a napkin for the Southern Barbecue Dinner at the Rosen Hotel (sponsored by BYD).
Masks and social distancing will be enforced. More information about the safety and sanitation practices followed by the Orlando Convention Center and the UMA can be found here. All facilities are providing distanced seating for meals, plexiglass guards, grab and go items, and pre-wrapped condiments and silverware.
"I feel very safe down there and I truly believe all the right steps are being taken," said Mitch Guralnick of Prevost, following his recent advance visit to Orlando.
Visit motorcoachexpo.com to register or for more information.
[04.13.21]
Details

Category: Industry News
On April 10, at 10 a.m. ET, the Maryland Motorcoach Association (MMA) is hosting a Travel Talk session for operators and tour & travel partners to discuss "What's Opened." The open conversation will let operators discuss how they are working to get groups back on the road.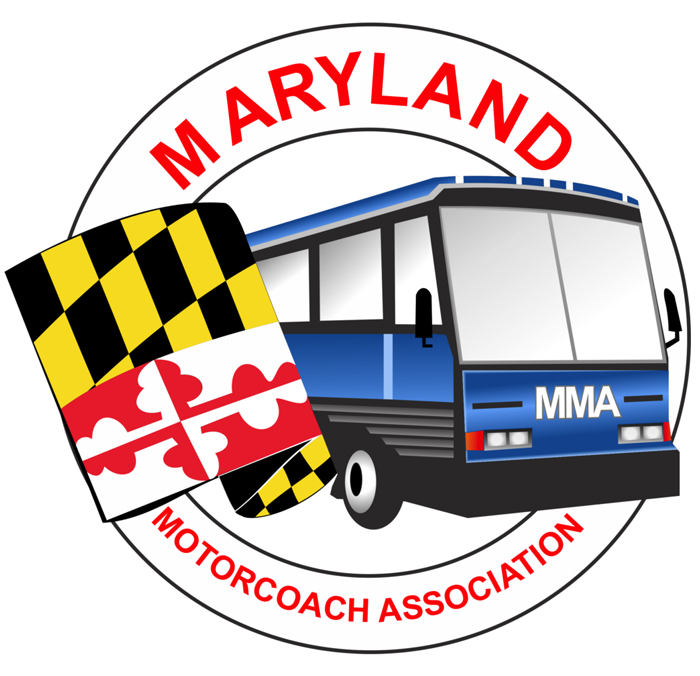 The session will be led by Lauren Grote of Rill's Bus Service and Rich Gilbert of the Maryland Office of Tourism. Prior to an open Q&A, Tour & Travel Partners will each have three minutes to highlight their company/property. If you are interested in presenting, email Gilbert to have your name added to the list. As there are a limited number of time slots, please RSVP as soon as possible.
MMA has also partnered with the Virginia Motorcoach Association to host its Spring Operators Meeting, which has been rescheduled for May 10-12 at Virginia Crossings in Glen Allen, Va. For more information, a peek at the tentative agenda, and to register for the event, click here.
Visit marylandmotorcoach.org for more information.
[04.09.21]
Details

Category: Industry News

On April 7, Prevost launched EnviroCare, a dual ionization system that sanitizes and cleans the air and surfaces in coaches through the air and climate system. According to Prevost, EnviroCare is based on a proven technology used in home and automotive applications globally to support motorcoach operators in providing a safe environment and boosting confidence for group travel riders.
VP and GM of Prevost Francois Tremblay
"Operators have been using deep-cleaning methods to sanitize coaches with the advent of the COVID pandemic. Now we can ensure the air and surfaces in the entire coach, including those hard-to-reach places, will be sanitized," said Francois Tremblay, vice president and general manager of Prevost. "We are proud to bring this solution to our customers and their fleets, creating an environment where groups can feel comfortable traveling together again."
This dual ionization system is added to the cabin climate system and helps to suppress and deactivate viruses, bacteria, and mold that are airborne or on surfaces. EnviroCare uses a balance of positive and negative ions to attach to and change the structure of viruses, bacteria, and other pollutants to create harmless and invisible water vapor.
Hampton Jitney President Geoff Lynch has worked with Prevost on use and real-world testing of the system in his motorcoach operations.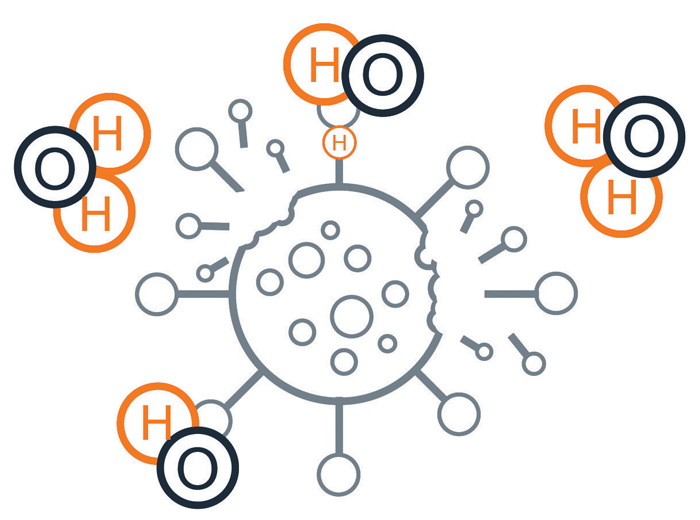 EnviroCare Step 2: Ions continuously decompose the pollutants, thereby reducing the concentration in both the air and on surfaces.
"Our priority at Hampton Jitney has always been the safety and well-being of both our passengers and employees," said Lynch. "The EnviroCare system helps us achieve that mandate and has been a great addition to our Wellness Protection program for our motorcoaches. We have been working with Prevost to test the effectiveness of the system and we have seen hospital-grade cleanliness in the coach. I have confidence that our passengers and staff benefit from the natural sanitation of the cabin air and surfaces with the EnviroCare System."
Prevost says all the air within the passenger cabin is refreshed every five minutes while the air inside the coach is filtered every minute. Replenishing and filtering the air so often reassures passengers they are not breathing contaminates from other sources.
"At Prevost, safety is always a priority. We tested many systems with EnviroCare standing out to make the cabin and surfaces sanitized without chemicals or side effects and all trip long," said Product Manager Jeff Gagne. "This technology has been used around the world, in many different industries. It just makes great sense for the specific application of motorcoaches."
Visit prevostcar.com for more information.
[04.09.21]