Details

Category: Industry News

It was a full house at Captain James Seafood Palace on Tuesday, December 5, for the Maryland Limousine Association (MLA) membership meeting. Forty attendees, vendors, and guests—several from out of state—attended the lunchtime event, including CD Editor Rob Smentek.
MLA President Len Joseph of On the Town Limousines kicked off the meeting by breaking the news that Japneet Singh of Executive CLS was unanimously voted to the Board of Directors. Singh has been very involved with the association, particularly in regards to issues faced by for-hire operators within Washington D.C. city limits. Joseph also welcomed several new members to the MLA.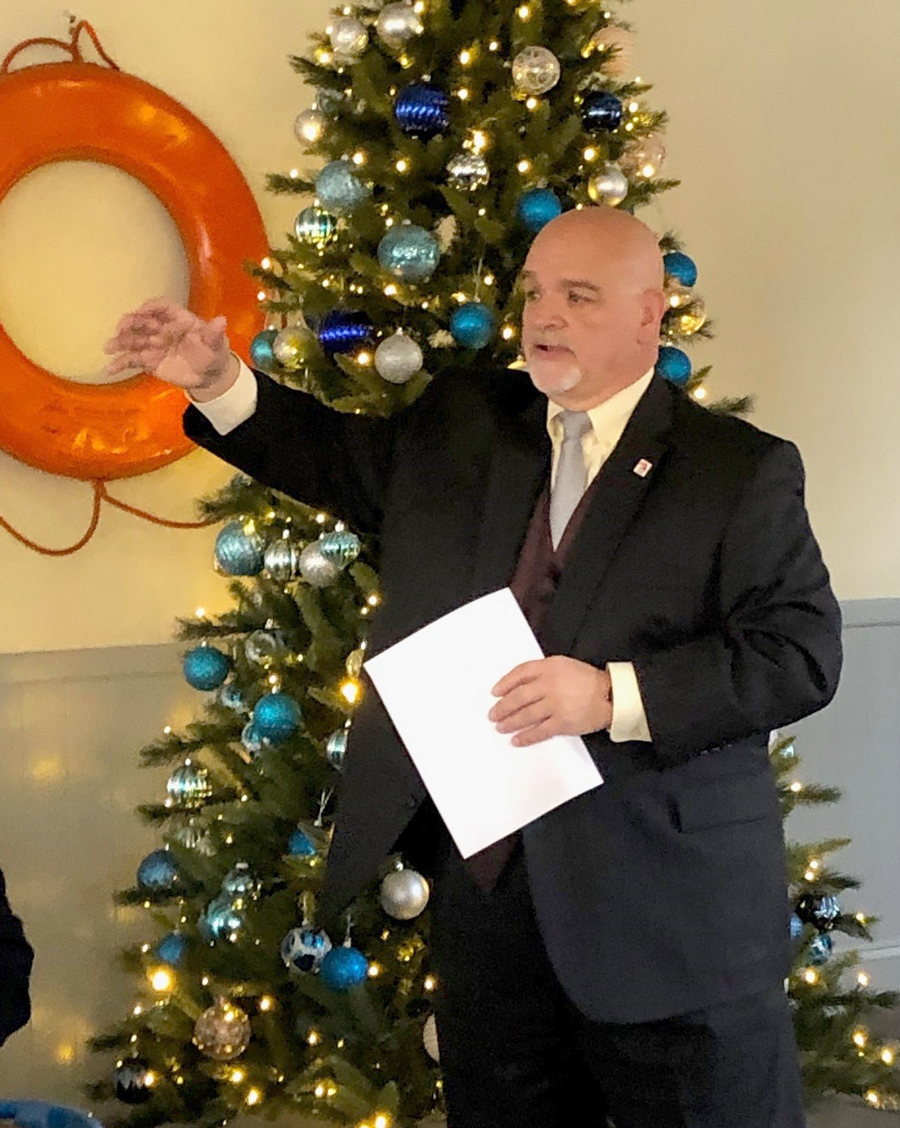 MLA President Len Joseph of On The Town Limousines
Following an overview of how the MLA is working with the public service commission regarding chauffeur/driver approvals, MLA Treasurer Michael Greene of A Platinum Plus Limousines provided a report of the association's fiscal situation. He then confirmed that MLA members will once again be donating transportation to the annual Shrimp & Gifts Event sponsored by Jimmy's Famous Seafood and its Famous Fund alongside Walmart and its team led by Jaquetta Bratley, Pepsi Stronger Together, Von Paris Moving & Storage, our Maryland Limousine Association, and a slew of additional donors. Lasting Impressions Transportation Services, On The Town Limousines, An Extraordinar Limousines, DTS Worldwide Transportation, Executive CLS Concierge and Limousine Service, and A Platinum Plus Limousines will be providing luxury shuttles to the various groups of kids to ensure they were able to arrive in style to this spectacular charity event for Baltimore children. The kids will be met with dancing Christmas characters, a delicious buffet dinner by Jimmy's Famous Seafood, and a shopping experience with Ravens team players including Mark Andrews, Rashod Bateman, Ben Cleveland, and Super Bowl Champions Torrey Smith and Ray Rice.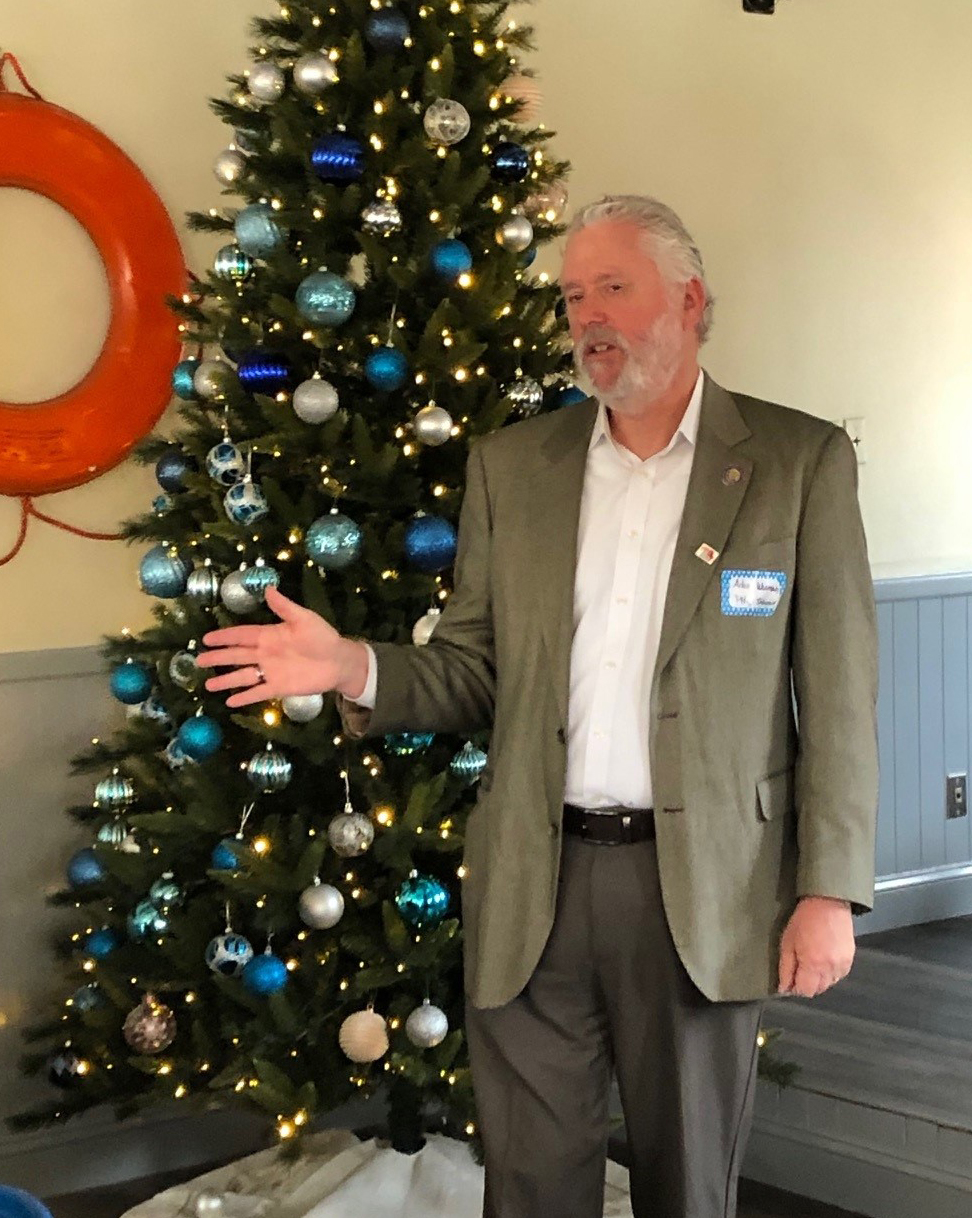 Adam Weisman of Philadelphia Indemnity Insurance
Last year, each kid was awarded a $200 gift card to shop with, with a surprise bonus of an extra $100 per kid. The children are from the SEED School of Maryland, SAFE Alternative Program, St. Ignatius School, Level 82 Academy, The Upton Boxing Center, Ruth Kirk Recreation Center, and Woodlawn Middle School. CBS News Affiliate WJZ is the proud media sponsor of the event, with media personality Rick Ritter being the master of ceremonies.
"The Maryland Limousine Association is honored to support Baltimore and the children this holiday season, placing smiles on the kids' faces with great rides to and from such a wonderful charity event to build our community," says Joseph.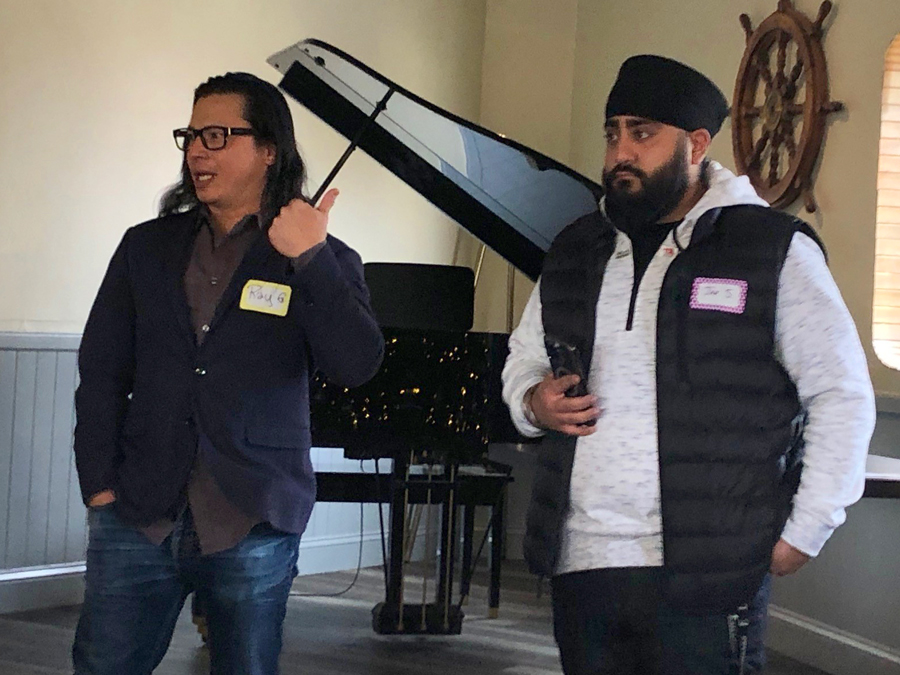 MLA Board Members Ray Gavino (left) of Translogic Executive and Japneet Singh of Executive CLS
The MLA welcomed several guest speakers to the meeting. First was Adam Weisman from Philadelphia Indemnity Insurance, who provided a thorough overview of what's driving up insurance rates. Most significantly, claims are rising, largely due to inflationary costs. With the price of repairing vehicles on the rise—whether it's from labor or parts—insurance rates are going to climb. Weisman also spoke about bad driving habits that developed during the COVID pandemic, as well as the effect of marijuana legalization on the insurance industry.
New MLA Vendor Members were also given some time to speak. Kie Fair of BWI Motorsports spoke about the services they offer the industry, including minibus customization and vehicle repair, followed by representatives from Acceleration Automotive, a three-shop operation that performs fleet maintenance and DOT inspection.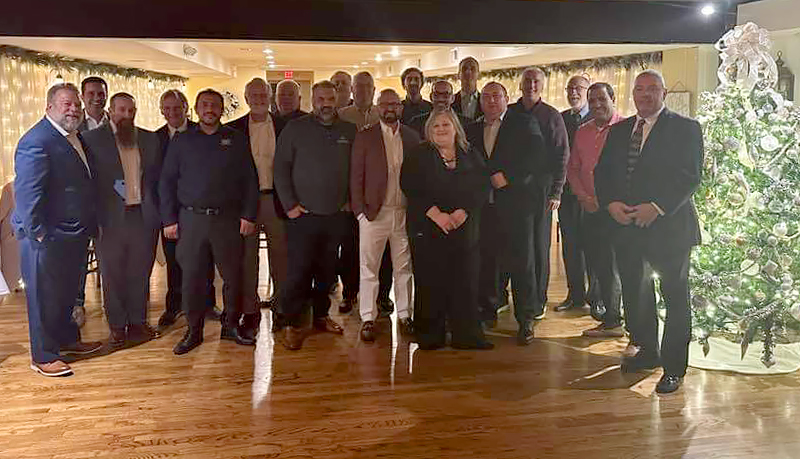 L to R: Ray Gavino of Translogic Executive, Adam Weisman of Philadelphia Indemnity Insurance, Joanna Fridinger of The Limo Lady, Len Joseph of On The Town Limousines, Japneet Singh of Executive CLS, Bryan Johnson of Martens Johnson/Hilb Group, Morgan Quinn of Philadelphia Indemnity Insurance, and Michael Greene of A Platinum Plus Limousine
Singh and fellow Board Member Ray Gavino of Translogic Executive then addressed the challenges that non-district operators are experiencing in D.C. Many operators are being pulled over, and even being impounded, based on perceived infractions with their out-of-district stickering and licensing. Gavino and Singh conveyed their frustration that compliance and enforcement are not on the same page with the Department of For-Hire Vehicles. A rep from the Department was scheduled to attend the meeting but was unable to appear at the last minute.
Finally, the meeting concluded with some housekeeping from MLA Secretary Joanna Fridinger of The Limo Lady. She reminded the attendees that membership renewals are coming in March 2024, and provided a rundown of the dates for upcoming CD/NLA events.
The next MLA meeting is scheduled for February 20 at a venue to be determined.
Visit mdlimoassoc.org for more information.
[12.08.23]
Details

Category: Industry News

The Greater California Livery Association (GCLA) has announced the results of its most recent election. The previous term will expire on 12/31 and the new directors will take office in 2024. Congratulations to all the winners!
The results:
San Diego Region: Adrian Davis of Five Star Limousine (incumbent) & Selim Aslam of MIB Transportation
Orange County Region: Victoria Davis of H.B. Limo Services
Los Angeles Region: Chris Hundley of Limousine Connection (incumbent) and Gemayel Beecham of Beyond Transportation
Northern California Region: Harry Dhillon of Ecko Worldwide Transportation (incumbent) and Aaron Lesavoy of Code 3 Limousine & Transportation (formerly Secretary)
At Large: Maurice Brewster of Mosaic Global Transportation
Vendor Directors: Anthony Ciscneros of Motor City GMC/Volvo and Mark Freeark of Acrisure/Transportation Insurance Brokers (incumbent)
Visit gcla.org for more information.
[12.05.23]
Details

Category: Industry News
CharterUP, the first fully integrated charter bus marketplace for corporations, consumers, and operators, today announced that luxury Sprinter vans are now available on its award-winning charter services platform in Washington D.C. and Orlando. The cities are the latest markets where the luxury vehicles are available, following its initial launch across Texas and Southern California. The expansion provides more options for customers seeking group transportation, while welcoming a whole new category of local operators to its platform.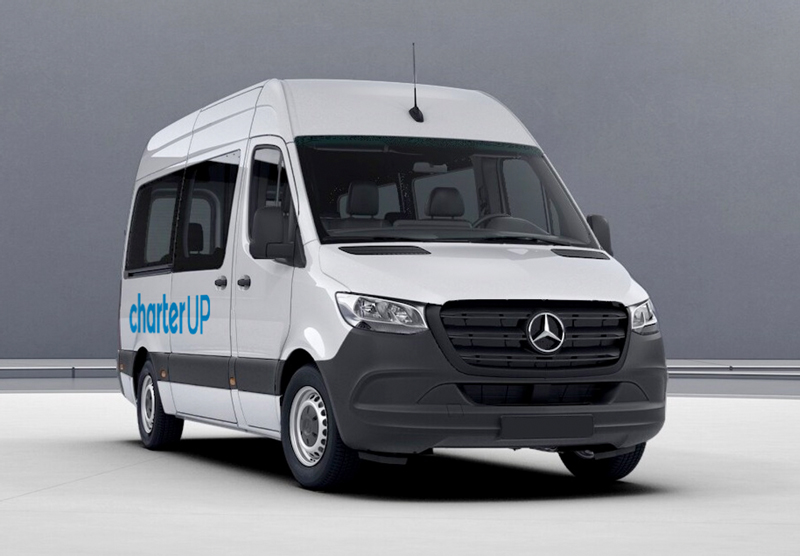 CharterUP Sprinter Van
The addition of luxury sprinter vans to the CharterUP marketplace creates opportunities for more than 7,000 independent operators across North America who are sitting on underutilized fleets. Already hosting a network of more than 4,000 motorcoaches and minibuses, the CharterUP marketplace has added hundreds of luxury Sprinter vans to meet the growing demand for group transportation services of all sizes.
"With the return to office and group travel, there is a growing demand for transportation services nationwide," said CharterUP CEO & Founder Armir Harris. "Washington D.C. and Orlando stand out as top destinations but we recognize that not everyone requires a motorcoach. That's why we are continuing to roll out hundreds of luxury Sprinter vans in major markets across the U.S., to provide versatile and upscale travel options for our customers while welcoming a new category of operator partners to our platform."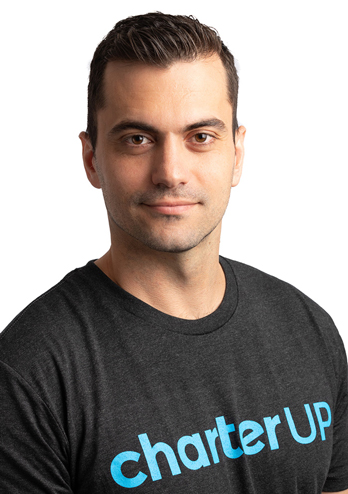 CharterUP CEO & Founder Armir Harris
Hundreds of new luxury Sprinter van operators have joined over 600 existing local bus operators nationwide who have teamed up with CharterUP to deliver premier charter services experiences with transparency and accountability, while leveraging its data-driven platform to increase bookings, enhance logistics and more.
"CharterUP has transformed the way we do business, replacing our old booking process with a streamlined data-driven marketplace, resulting in a greater than 20 percent boost in business," said Master's Charter President Saulo Ferreira. "We're seeing the need for group transportation surge across Orlando and CharterUP's latest expansion to include luxury Sprinter vans on their platform enables us to meet that demand with the entirety of our fleet."
With the strategic incorporation of Sprinter vans, small groups of up to 12 passengers can book luxury travel without the high costs and coordination hassles of multiple rideshares or taxis. This addition to the fleet marks a significant step in making convenient group travel options more accessible and affordable, ensuring a premium travel experience from start to finish.
"Our new Sprinter line is a testament to CharterUP's commitment to providing efficient, affordable luxury travel options to groups of all sizes," Harris continued. "In an industry where smaller parties often face the dilemma of choosing between luxury and affordability, our Sprinter vans stand out as a solution that compromises on neither."
The news comes on the heels of the company's recognition as the second fastest-growing private company in the U.S. on the Inc. 5000 list for achieving 111,130 percent average revenue growth over the past three years.
With real-time availability, vehicle tracking, performance reviews and on-demand booking, CharterUP connects customers with available charters in under 60 seconds. By streamlining group transportation, CharterUP has become the top charter service provider for Fortune 500 companies including Amazon, Microsoft, and Google and last year alone, helped eliminate over 1 billion miles worth of carbon emissions with 25 million miles driven.
Visit charterup.com for more information.
[12.05.23]